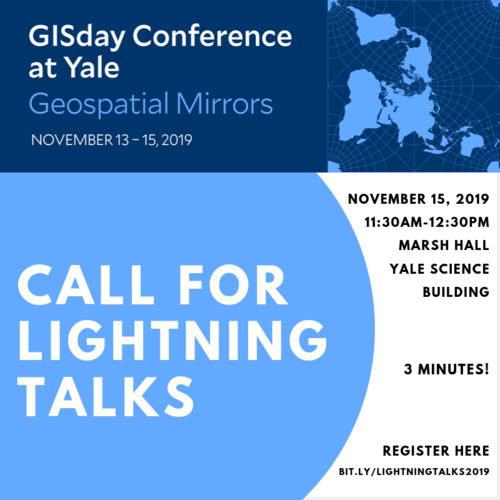 The Lightning Talks session is back by popular demand for Yale GIS Day 2019! 
We invite students and researchers to submit a proposal for a 3-minute Lightning Talk to showcase their work on a GIS or Remote Sensing project.  We hope to host talks from a variety of topics with analysis done on a wide variety of platforms (ArcGIS, ENVI, Google Earth Engine, R, etc).
The Lightning Talks session will take place November 15, 2019 from 11:30am-12:30pm in the Marsh Lecture Hall in the new Yale Science Building.
The deadline to submit a proposal for a Lightning Talk is 11:59pm, November 10th.
Register here. 
Hosted by: Yale Center for Earth Observation & the Earth Engine @ Yale working group
Click here or more information on the other talks, workshops, and activities of Yale GIS Day 2019.