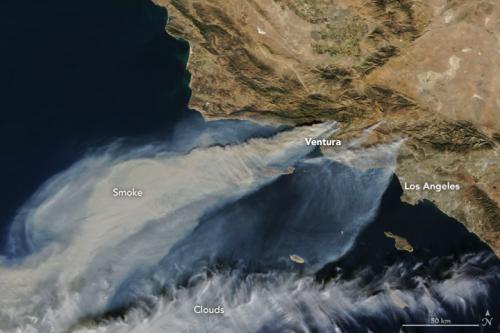 The fierce Santa Ana winds are driving new fires in southern California this month.  The Thomas Fire near Ventura has been expanding at an unprecedented rate. 
This natural color image from the MODIS Aqua sensor shows the smoke plumes stretching to the southwest over the Pacific Ocean.
Check out this short NASA article that contrasts this MODIS scene with a much higher-resolution image from the Sentinel 2 sensor acquired on the same date.
This NASA article uses the night lights to show the fire spreading from 4 December to 8 December.
Finally, this NASA article matches a natural color MODIS AQUA image of 11 December with a carbon monoxide concentration image acquired on the AIRS AQUA sensor of the same date.