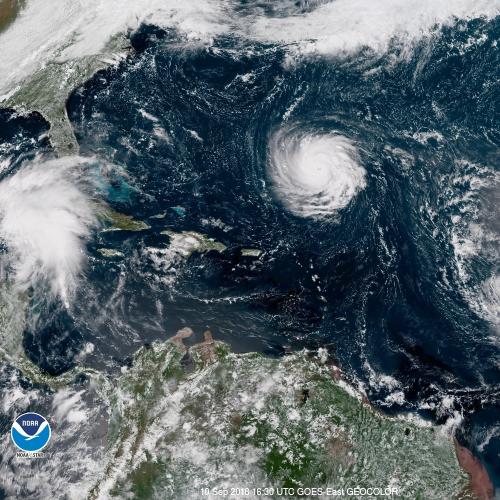 Now a category four storm with maximum sustained winds of 130mph (195km/h) and gaining strength, Hurricane Florence is set to make landfall in the Carolinas by Thursday.  North Carolina, South Carolina, and Virginia have all declared states of emergency ahead of what may be the strongest storm to hit the region in decades.  
Florence started the day as a category two storm, but as it approaches the U.S. coast, it is benefitting from "very warm" sea surface temperatures up to 85 degrees Fahrenheit, according to the National Hurricane Center.  As of 11am ET today (Monday), the storm was 580 miles southeast of Bermuda.  The forecasts predict that Florence will pass between Bermuda and the Bahamas on Tuesday and Wednesday and approach the U.S. Coast Thursday morning.   However, tropical-storm force winds could start to reach the Carolinas as early as Wednesday night.  Hurricane force winds (74 mph and higher) are expected up to 30 miles from Florence's center.  In addition to storm surge and winds, flooding is expected from prolonged and heavy rain over the Carolinas and Mid Atlantic.
Hurrica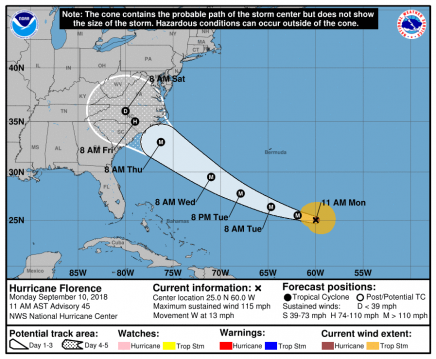 ne Florence is one of three hurricanes in the Atlantic, followed by Issac and Helene.  Both of those storms are currently weaker than Florence and are not expected to threaten the United States.   
For more information on Hurricane Florence, visit the National Hurricane Center's website.