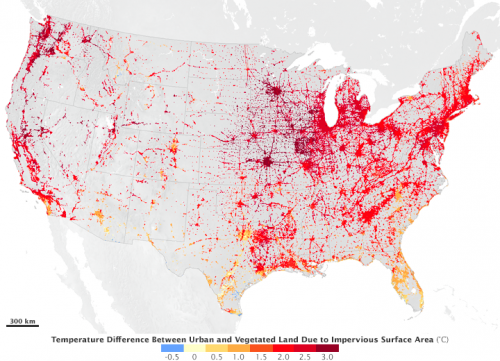 A recent study by Lahouari Bounoua, a climate scientist at NASA's Goddard Space Flight Center, has revealed interesting details that contribute to our understanding the urban heat island effect.  His team used a collection of Landsat and MODIS imagery and modeling to look at the impact of vegetation and impervious surface cover on urban temperatures.  One of the main findings is that temperature is fairly stable until the percentage of impervious surface exceeds 35%.
For more information check out the NASA Earth Observatory article at: http://earthobservatory.nasa.gov/IOTD/view.php?id=86440&src=eoa-iotd
The study was published in Environment Research Letters:
Bounoua, L. et al, (2015, August 12) Impact of urbanization on US surface climate. Environmental Research Letters 10 (8).