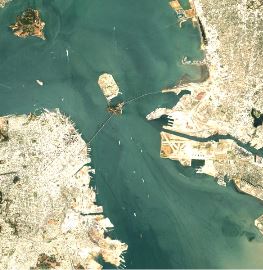 The USGS provides high level processing of Landsat images into Climate Data Records (CDR)s and Essential Climate Variables (ECV)s and are described in some detail on this USGS site.  The CDRs are atmospherically corrected Landsat images converted to surface reflectance.  The CDRs have been available for some time now through the USGS Earth Explorer interface.
As of 29 July 2014 the USGS will provide a collection of Terrestrial ECVs derived from these Landsat images.  These include:
Normalized Difference Vegetation Index (NDVI)

Normalized Difference Moisture Index (NDMI)

Normalized Burn Ratio (NBR)

Normalized Burn Ratio 2 (NBR2)

Enhanced Vegetation Index (EVI)

Modified Soil Adjusted Vegetation Index (MSAVI)

Soil Adjusted Vegetation Index (SAVI)
You should read the USGS Product Guide before ordering these data through the USGS ESPA ordering interface.