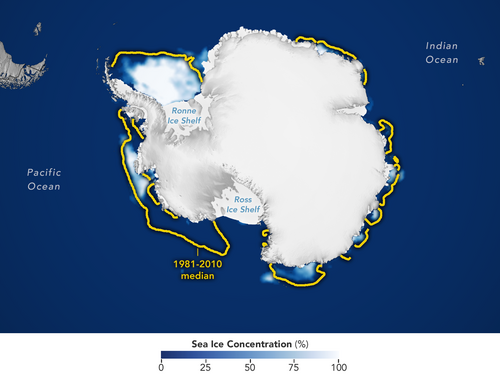 After nearly 43 years of observing Earth from space, new satellite images revealed a horrific shrinkage of ice in Antarctica.
According to the analyses of satellite images captured in February of this year, scientists reported that ice had shrunk to 1.92 million km2 in the Antarctic sea, which is 190,000 km2 less than the record-low observed in 2017. Scientest attributed this change to unsual strong winds that quickly pushed ice norhtward into the warmer water. In spite of this shrinkage, and as the winter is approaching in the southern hemisphere, the rate of ice growth in Antarctica is still normal so far, and scientists are waiting to observe how much ice will grow this year.
Although scientists have not yet observed any statitically significant variability in long term trend of sea ice in Antarctica, the global sea ice is shrinking and shows a clear diminishing trend. This is caused by the significant loss of ice in the Arctic sea.