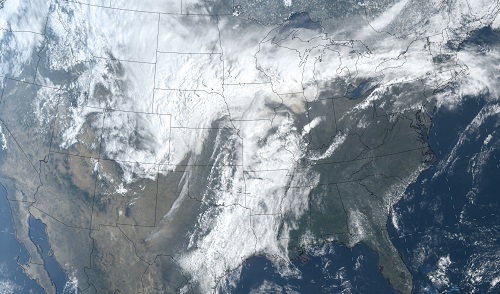 Midwesterners are still digging out from winter storm Xanto, which dropped record-breaking snowfall across the region.  Xanto was the heaviest April snowstorm on record in Minneapolis-St. Paul, Minnesota, totaling 15.8 inches.  Green Bay, Wisconsin recorded 24.2 inches of snow, which was not only the city's heaviest April snowstorm, but the 2nd-heaviest snowstorm of all time.  Read more about Xanto's snowfall records here.
Xanto finally started to move out of the region on April 15-16, leaving Midwestern residents to dig out, retrieve their towed vehicles from the impound lots, and send their kids back to school.
Some of those lucky enough to be in warmer climates during the snowstorm found themselves stranded in airports while waiting for closed Midwest airports to reopen, or in some unfortunate cases, being forced to book alternate flights.
Image source: NCAR/RAL