Observing Earth From Space (OEFS)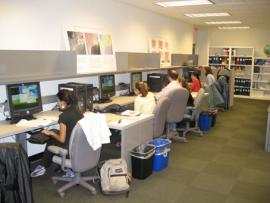 This course covers the theory and application of satellite remote sensing as a tool for environmental science. Topics include the fundamentals of electromagnetic radiation, reflection and absorption, satellite and sensor technology, map projections, integration of GIS data, and digital image analysis. The course also showcases a variety of satellite sensors for environmental applications.The course is offered to both graduate and upper-level undergraduate students.  The course is cross-listed in many departments and schools.
A significant portion of the course is dedicated to individual student projects. Instructors and Yale Center for Earth Observation (YCEO) Staff will assist students in designing a research project of their choice that will use the image analysis techniques they learn in the early stages of this course.
The lectures and lab exercises during the first third of the course provide a foundation to work with satellite images. You will receive practical training with advanced image processing software and internet data acquisition techniques.
The second third of the course covers a series of environmental case studies using remote sensing and GIS techniques to answer a particular question. These lectures and lab assignments may include applications in: forest harvesting and land use, geomorphology, ecology and infectious disease, climate studies, and/or monitoring agricultural practices. There is also a half-day ground truth field trip.
The final third of the course consists of lectures on advanced techniques. In place of assigned lab exercises, students work on their independent research projects, applying remote sensing techniques to satellite images. Teaching Assistants, YCEO Staff, and Instructors are available to assist students in exploring advanced techniques in their projects.
You can view a Google Earth Tour of a few past student projects.
Prerequisites:
College level physics or chemistry, two courses in geology or environmental sciences and computer literacy.
Application Procedure:
Students wishing to take the course must submit an application form which is available online and also provided at the first lecture. This form must be submitted at the YCEO Lab in ESC 119 by Noon on Wednesday January 15, 2022. This will allow us time to assign students to specific lab sessions and to create student accounts in the YCEO server system.
Meeting Time and Place:
Lectures - Tuesday and Thursday 9:00 - 10:15 AM in the Environmental Science Center in room ESC 110
Labs - One two-hour session weekly. Depending on size of the student enrollment, there will be between three and five lab sections held on Thursday afternoon and evening and/or Friday afternoon at the YCEO Lab in room ESC 119.
Textbook:
Campbell, J and R. Wynne, Introduction to Remote Sensing, 5th Edition, The Guilford Press, 2011.
Instructors:
Xuhui Lee (ENV) – plus Mark Ashton and Karen Seto (ENV), Walter Jetz (EEB) and other faculty and staff.
Graded Work:
Weekly lab reports, mid-term exam, student research project.