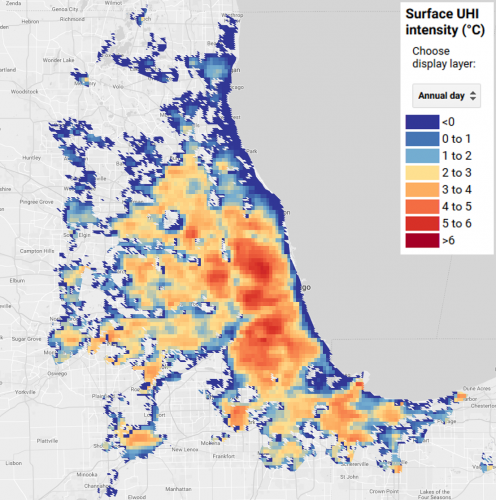 Cities are typically warmer than their surrounding rural landscapes, a phenomenon known as the urban heat island (UHI) effect.  Although the UHI has been documented as early as 1833, many studies are conducted on a city-by-city basis, making it difficult to compare the UHI across cities around the globe.  A recent student-led project developed a new algorithm to study the UHI at a global scale. 
TC Chakraborty, a PhD student in the School of Forestry & Environmental Studies, utilized global MODIS data and the cloud-computing platform of Google Earth Engine to quantify the UHI intensity for over 9500 urban clusters around the world, making it one of the most comprehensive characterizations of the surface UHI to date.  The results of this work were recently published in the Journal of Applied Earth Observation and Geoinformation.
As part of this project, TC created an interactive web app, called the Global Surface UHI Explorer, that allows users to browse and query the UHI of cities around the world.  The app includes 16 years of daytime and nighttime UHI data at 1km resolution, and displays the spatial variation of the annual, summertime, and wintertime surface UHI for almost all urban areas on Earth.  The app allows users to search for a city of interest, query cities to generate charts of seasonal and long-term surface UHI, and download UHI data.  Click here to learn more about the app or here to go directly to the Global Surface UHI Explorer. 
 The full details of the UHI algorithm and the results of this study can be found in the following reference:
T. Chakraborty, X. Lee, "A simplified urban-extent algorithm to characterize surface urban heat islands on a global scale and examine vegetation control on their spatiotemporal variability", International Journal of Applied Earth Observation and Geoinformation. 74, 269-280, 2019.